Caramelized Catfish Clay Pot is one of the must-included-dished in Vietnamese national anthem recipes. The fish is super tender and almost falls apart, while the caramelized sauce is rich and full of flavor.
The dish is often paired with a hot bowl of steamed rice and served with this fantastic Hot & Sour Tamarind Soup. These are a perfect combination for any family meal.
Catfish Clay Pot is so famous and yet, so hard to make. One must cook this dish at least a thousand times to achieve such a perfect recipe. Ok, it was exaggerated, not a thousand times, but maybe 20 to 50 times. And I would be proud to announce publicly that I've found such a recipe.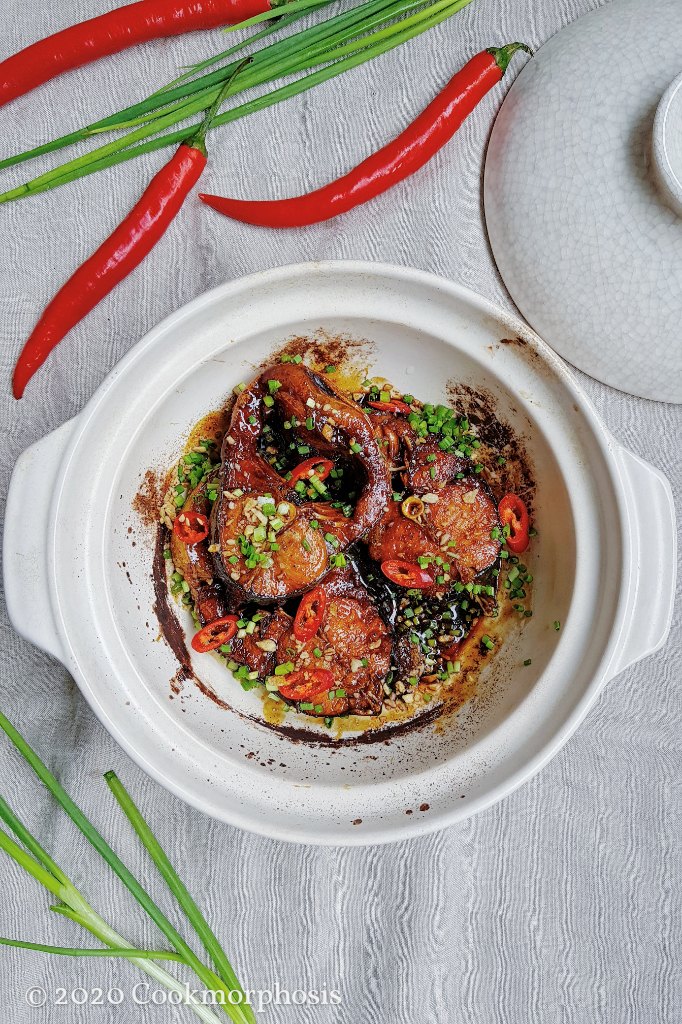 ---
The essential equipment used to make this Catfish Clay Pot
The name Catfish Clay Pot is derived from special cooking equipment we traditionally use in Vietnam. The pot is specially made from clay, and like cast iron, it requires special care. The traditional Vietnamese hot pot is super easy to break after 10-15 usages. And it is made 100% from clay.
If you've ever wanted to own an earthenware pot, you should always go with a Japanese-style clay pot called Donabe. It's entirely more expensive than other types and clay pot brands.
But trust me, it'll last forever. I bought mine in 2015, and until now, it's til in good shape. It's highly durable and long-lasting.
---
Ingredients
For this caramelized catfish clay pot recipe, I did not use any white sugar or brown sugar. So if you're not a big fan of these two, this recipe is for you.
Instead, I replace sugar with these two beautiful ingredients that come from two different countries: Japan and Taiwan. It's safe to say that this version of the catfish clay pot is a perfect Asian fusion dish. It includes fish sauce from Vietnam, sweet mirin from Japan, and sweet soy from Indonesia.
Sweet soy is such a fantastic ingredient that I think all of us must have it in our pantry. Sweet soy is made from palm sugar, star anise, galangal, and another Asian aromatic.
Mirin is a popular cooking ingredient in Japanese cuisine. It is made of starch syrup, sake (lower than 1%), rice, and brewed vinegar.
The combination of fish sauce, sweet mirin, and sweet soy creates a beautiful texture and taste for catfish's caramelized sauce.
Before going into the recipe, I want to clarify that although the recipe is called Catfish Clay Pot, it is okay if you cook this in any cookware. Stainless steel pot, aluminum cooking pan, or copper pot is still OK.
---
Other related recipes that go good with steamed rice
---
Did you make this recipe? If so please leave a rating and let me know how it went in the comment section. Also, don't forget to tag me #cookmorphosis @cookmorphosis on social media.
Caramelized Catfish Clay Pot
Lip smacking catfish cooked in tasty caramelized sauce which is made of three incredible ingredients (no sugar added).
Equipment
Clay pot OR

Stainless steel pot

Shallow pan for fried blanching

Big plate lined with oil absorbed paper
Ingredients
3

piece

catfish steak

clean, pad dry

3

clove

garlic

minced

2

shallot

minced

green onion

chopped, for garnish

black pepper

as needed

steamed rice

as needed
Caramelized Sauce
½

c

sweet soy sauce

¼

c

fish sauce

33N or 40N (adjust water amount below accordingly)

¼

c

mirin

½

c

water

if using 33N fish sauce

¾

c

water

if using 40N fish sauce
Instructions
For caramelized sauce:
In a clay pot or stainless steel pot, heat one tbsp of vegetable oil, add minced garlic and shallot. Cook for 2 minutes or until garlic turn golden brown.

Add all ingredients for caramelized sauce in. Bring to boil and reduce the heat to simmer for 10 minutes or until the mixture reduced by half.
Blanch catfish
In a meantime, fill 2 cups of oil in a shallow pan, make sure the oil reach at least 350F. Quickly add each piece of catfish in and cook for 1 minute each side.

Place blanched catfish on plate with oil absorbed paper to get rid of excess oil.
Cook caramelized catfish
After the caramelized sauce is reduced by half, carefully add blanched catfish in piece by piece. Bring the heat to medium high and continue cooking.

The sauce will form many bubbles on top of the catfish surface, this is totally normal. Just remember keep an eye on the pot. DO NOT go anywhere or multi task at this point.

Cook for approximately 10 minutes or until the sauce reduce almost by half again. You can check the consistency of the sauce by using the back of a spoon. Dip a spoon into the sauce, if it is coated with the sauce and there is no dripping down. The sauce is done.

Turn off the heat. Add ground black pepper and chopped green onion for garnish. Enjoy with a hot bowl of steamed rice.