Lately I had a fridge crisis at my home so I was really behind blog posts, recipe testing, and technically everything related with food and my works. Jeez. If you've ever worked in a kitchen, you would know broken fridge is every chef's nightmare. Long story short, this easy sticky pan fried pork recipe is my big rescue for today dinner. Literally, To.Day. Because I had no idea what I would have and was so tired of to-go food. Since the fridge broke, I've had take out food for 4 days straight, and it really bored me out.
Normally, people choose to fry with pork chops [related post: Grilled Pork Chops]. However, they are too dry deal to the lack of fat. So in this sticky pan fried pork, I rather recommend to use pork butt (Boston butt) boneless, skin on. Because pork butt with skin on will provide much more moist end result compared to pork chop. Also, with this recipe, you shouldn't use pork belly because it has too much fat. You'll end up with fatty & soggy meat all over the place instead of the sticky meat that I'm trying to steer you to.
Pork butt is well marbled with intramuscular fat so when fried at medium heat, it will release enough fatty effect to make the meat sticky. So you won't feel bored while eating them at all. Also, I put more seasoning for the marinade than it supposed to so you can enjoy these sticky flavorful pork with a bowl of hot steamed rice.
One more important thing, you must use meat pallet and pound on the pork meat before cooking them. The reason is with this frying method, pork butt do not have enough time to tenderize before the cooking time is up. The only thing can help to soften the meat is this magic meat pallet. So pound on them as much as you can then you'll have such tender and wonderful sticky pan fried pork.
So lets go for this easy, quick, and impromptu sticky pan fried pork recipe now.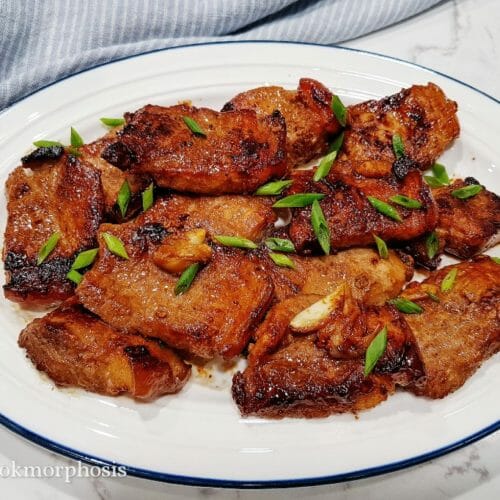 Easy Sticky Pan Fried Pork Recipe
This pan fried pork is sticky and a little bit salty so it's perfect to be paired with a hot bowl of steamed rice.
Ingredients
1

lb

pork butt

boneless, skin on (see notes above)

1

tbsp

chicken bouillon

4

tbsp

fish sauce

2

tbsp

sweet soy

1

bulb

garlic

peeled, minced

1

bulb

shallot

peeled, minced

¼

tsp

white pepper

¼

tsp

onion powder

½

tsp

chili powder

optional

hot steamed rice

as needed
Instructions
Cut pork butt into 3in long x 2in wide x 0.5in thick pieces. Use meat pallet and pound on to each pork piece 3-4 times (for each side) to tenderize the meat.

In a mixing bowl, add pork pieces, other ingredients and mix well. Let the pork marinade for at least 30 minutes.

In a shallow pan or pot, add ½ c of vegetable oil, heat on medium high heat. Check whether the oil is ready by throw into the pan a dash of flour. If the flour is sizzling it means oil is ready.

Carefully add each piece of pork butt into the pan and fry for 3 minutes on medium high heat. Then lower the heat to medium and fry for another 3 minutes, then flip the pork and continue frying for 3 minutes. The pork will have a golden brown color on both sides and sticky texture after done cooking.

Repeat these steps for the rest of the pork.

Serve the pork immediately with hot steamed rice. Enjoy!