This old-fashioned butter pound cake uses a unique creaming method with a perfect balance of high-quality ingredients. The cake produces its classic fine grain, moist crumb, and thin and tender crust. It is safe to say this is a perfect Sara Lee pound cake copycat.
Out of all the cakes, this simple, old-fashioned pound cake is always my most favorite. I love its rich and buttery flavor; tender and soft crumb texture.
Pound cake has its name because initially, the formula for this cake specified one pound of each: butter, eggs, flour, and sugar. Over time, many bakers have changed the ratio of the ingredients to create a perfect cake. These changes led to the development of butter pound cake.
---
Old-fashioned butter pound cake
This butter pound cake uses one of the two basic mixing methods: the creaming method.
The other one is called whipped eggs or foaming method, which uses little to no fat. Cakes using this method are well suited for rolling cakes, such as this chocolate yule log cake recipe.
As with other baked goods, it is impossible to taste a cake until it is fully baked. Therefore, studying the recipe before beginning the baking process is extremely important. So it is best to skim the recipe beforehand and note any particular details if necessary.
This recipe yields the finest grain cake with a uniform size of air cells, moist crumb, rich buttery flavor, and thin & tender crust.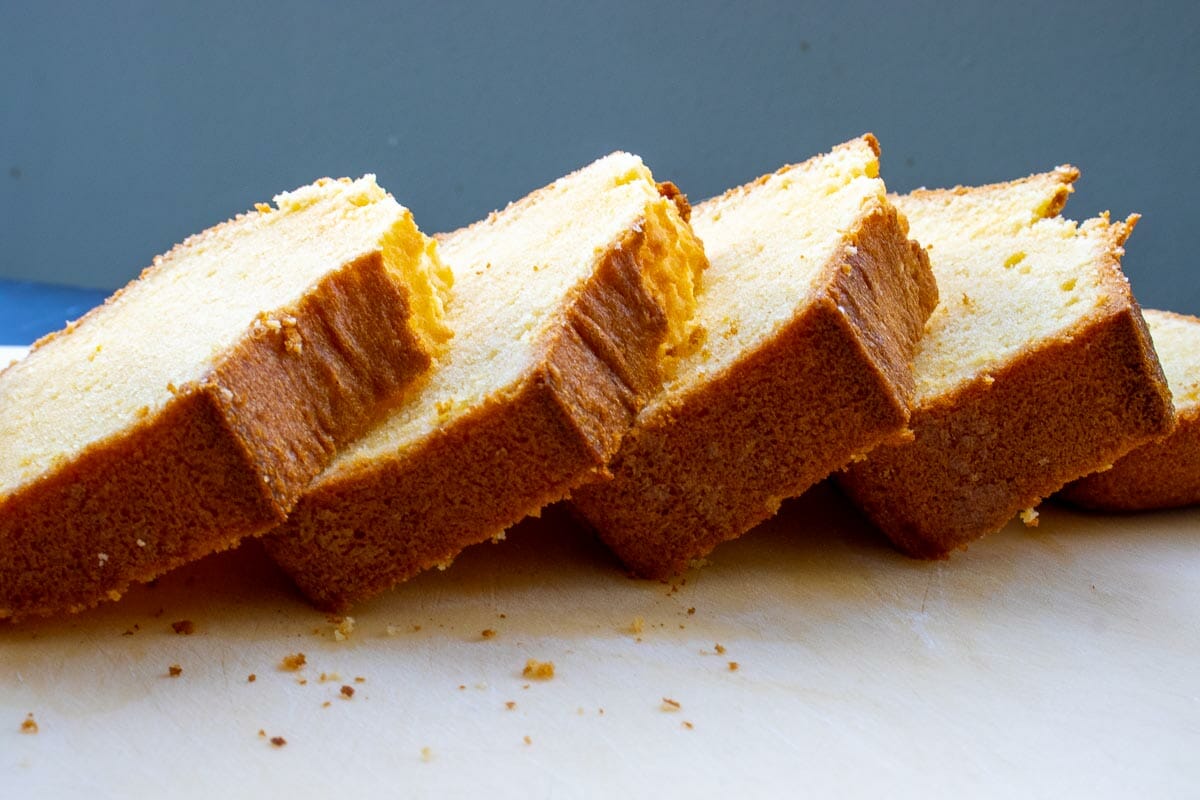 ---
Understand ingredients
A good cake begins with high-quality ingredients combined in a proper, well-tested balance. To do so, I've tested this recipe multiple times (4 to be exact) to come up with such ideal ingredients ratios and a perfect mixing method.
Each ingredient performs a specific function and has a specific effect on the final cake. So understanding the role of various ingredients helps to know why the cake is made in a particular way.
Ingredients used in this butter pound cake are:
Cake flour: flour provides bulk and structure for this cake. But we want such tender and moist crumbs for this recipe, so high-quality cake flour (low protein content) is your best pick. Substitution is not recommended because it can produce a less desirable pound cake.
Baking powder: this is a must ingredient because of the high-fat content; the cake needs the assistance of a chemical leavener to achieve the proper rise.
Granulated sugar: sugar provides color and flavor and tenderizes baked goods by weakening gluten strands.
Unsalted butter: besides flavor and color, unsalted butter adds moisture and richness, assists with leavening, and shortens gluten strands which, in the end, produces tender baked goods.
Vanilla extract: is used to add flavor to the pound cake. Make sure you use pure vanilla extract and not artificial or imitation.
Eggs: also contain protein like flour which helps provide structure and strengthen the cake once it is baked.
All ingredients must be at room temperature before the mixing begins. If one ingredient is too cold, it may affect the pound cake's batter's ability to rise properly.
---
Measuring ingredients
The precise, accurate measurement of ingredients is extremely important for this butter pound cake recipe and all the baked goods; such as this moist banana bread, fluffy condensed milk bread, or soft dinner rolls.
For the best result, I use weight measurement in this recipe rather than a volume measurement. Measuring ingredients by weight is more accurate and faster than measuring by volume.
However, the equal volume measurement is still provided for your reference. Remember, you might not get the expected pound cake if you use volume.
To get a precise weight, a good balance scale is a MUST. You should invest in one of those for your kitchen.
---
Unique creaming method
As mentioned above, I use a unique creaming method in this recipe.
Butter and sugar are typically added together at the beginning of the mixing process. However, this won't guarantee the butter to become as fluffy as possible.
So to get a moist, soft, evenly risen cake, we need the butter to be light and fluffy. The best way to do it is to cream butter first, then add sugar later.
When creamed thoroughly, the butter will increase in volume properly, resulting in a moist and soft butter cake.
If the butter is creamed insufficiently, it will expand very little, making the cake dense and tough.
---
Baking procedure
Misc en place: have ingredients at room temperature for an effective creaming method.
Sift dry ingredients: sift cake flour, baking powder, and salt together. Set aside.
Cream butter: cream the softened butter on low speed until it is light and fluffy.
Add sugar: then add the sugar and cream until the mixture is fluffy and smooth.
Add egg: one egg at a time. Stir in vanilla extract and lemon zest with the last egg.
Add sifted dry ingredients: add dry ingredients in three stages, and mix the batter just until incorporated after each addition.
Scrape the bowl: this step is important because it ensures to develop a completely smooth pound cake batter. Remember to scrape down the bowl after each addition of dry ingredients.
Pour in the pan: carefully pour the batter into a greased loaf pan.
Bake: bake at 325F until the crust turns golden brown, approximately 55 minutes.
---
Related recipes
---
Baking tips
Here are the secret to make the best Sara Lee butter pound cake copycat:
Ingredients at room temperature: it is essential that ingredients, especially butter and eggs, are softened at room temperature before mixing. This helps to ensure an even fine crumb and constant rise for the pound cake.
Do not substitute cake flour for AP flour: cake flour has less protein than AP flour. The higher a flour's protein content, the greater the chance that flour quickly develops gluten. And we don't want that gluten for this tender, soft pound cake.
Add eggs one at a time, which will help prevent the batter from separating.
Scrape down the bowl frequently: this step is very important in order to have a completely smooth, fluffy, and lump-free batter.
Last but not least, this cake can be served by itself, with a side of fresh fruit or with a scoop of homemade ice cream on top.
---
Video
---
Did you make this recipe? If so please leave a rating and let me know how it went in the comment section. Also, don't forget to tag me #cookmorphosis @cookmorphosis on social media.
Old-fashioned Butter Pound Cake
This recipe produces the classic fine grain, moist crumb, and thin and tender crust. In fact, it is a perfect Sarah Lee pound cake copycat.
Calories per serving:
3360
kcal
Instructions
Pre-heat oven to 325F. Grease the baking pan with oil or melted butter.

Sift cake flour, baking powder, and salt together. Set aside for later use.

In a mixing bowl fitted with the paddle attachment, cream unsalted butter on low speed until it is light, fluffy, and lump-free, approximately 2 minutes.

Scrape down the sides and bottom of the bowl occasionally to ensure all the butter is blended evenly.

Then add the sugar and continue creaming on low speed until the mixture is fluffy and smooth - about 2 minutes.

Combine vanilla extract, lemon zest, and eggs in a small mixing bowl.

Once the butter and sugar are properly creamed, slowly add the egg one at a time.

Mix until one is already fully incorporated before adding the next one, about 30 seconds each. Remember to scrape down the bowl after each addition.

Increase the speed to medium-high. Carefully add sifted dry ingredients in three stages.

Remember to mix the batter minimally (just until everything is incorporated) after the flour is added (probably 10-15 seconds for each stage). Excessing mixing would develop gluten which can toughen the pound cake.

Scrape down the bowl after each addition of dry ingredients.

Then carefully pour the batter into a greased loaf pan. Pick up the pan 2-3 inches from your countertop and lightly drop it to eliminate any air bubbles in the batter.

Bake the cake immediately until the crust turns golden brown, approximately 55 minutes. You can insert a toothpick in the middle of the cake to check for its doneness.

Cool the cake in the pan for a few minutes, then unmold onto the rack to cool completely, about 1 to 2 hours.
Notes
This old-fashioned pound cake is best served at room temperature. It can be eaten by itself or with fresh fruit.
This cake can be wrapped tightly at room temperature for 2 days, in a refrigerator for 3 days, and in a freezer for up to 2 weeks.
Nutrition
Calories:
3360
kcal
Carbohydrates:
337
g
Protein:
51
g
Fat:
205
g
Saturated Fat:
123
g
Polyunsaturated Fat:
12
g
Monounsaturated Fat:
54
g
Trans Fat:
8
g
Cholesterol:
1142
mg
Sodium:
1287
mg
Potassium:
531
mg
Fiber:
5
g
Sugar:
172
g
Vitamin A:
6623
IU
Calcium:
424
mg
Iron:
6
mg