Let's head into summer with this best homemade herbal tea. The tea (Nuoc Sam) is made of Western and Eastern herbal ingredients. It is naturally sweetened, caffeine-free refreshing, and wonderful iced tea for summer.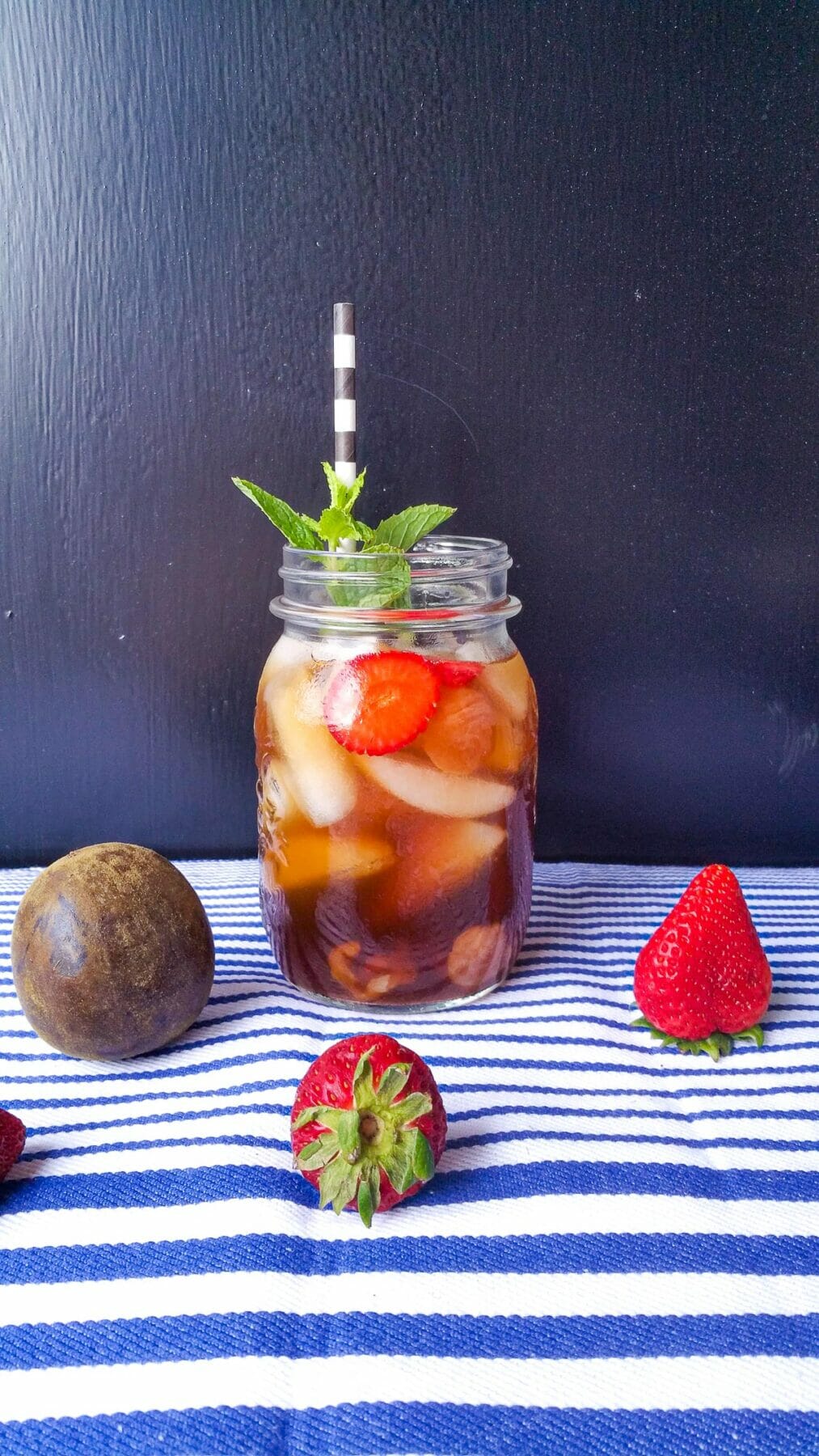 I'm excited to kick off summer with this one-of-a-kind homemade herbal tea. It is a hybrid version of Vietnamese herbal tea - Nuoc Sam. Actually, this hybrid recipe is perfect for any season and not just summer. It can be consumed year-round at any temperature - hot or cold - it is your call.
Best homemade herbal tea (Nuoc Sam)
This Vietnamese herbal tea (Nuoc Sam) is made from various dried flowers, herbs, and fruits. As aforementioned, it is naturally sweetened and, better yet, caffeine-free.
It is no secret that this tea is a popular selection for individuals in Vietnam. You can easily see many drink stalls selling this excellent Nuoc Sam all over the place year-round.
I can go on and on about the benefits of this tea, but to sum up, it helps you refresh and relax after a long, tiring day. So let's make the best homemade herbal tea recipe, shall we?
---
Essential ingredients
So here is a list of ingredients that included in this amazing naturally sweetened, caffeine-free tea:
Artichoke: one fresh, whole artichoke is used in this recipe.
Cilantro stems: only a handful of cilantro stems (no leaves attached).
Corn silk: yes, you read that right. For this tea, you need those long, silky threats that stick around a corn. Corn silk is widely used in Asian drinks and herbal medicines practices. You can read more about corn silk benefits here.
Sugar cane: canned sugar cane or fresh sugar cane is good.
Pandan leaves: you can use either frozen pandan leaves or fresh ones (both can be easily found in any Asian market).
Lo han guo: a dried version of monk fruit. It is native to southern China and used in many Asian drinks and herbal medicines. It is 200 times sweeter than sugar, so just like stevia, it is widely used as a natural sweetener in Asia.
Chrysanthemum: you'll need a dried flower version of chrysanthemum (not a tea package).
Rhizoma imperatae (rễ tranh): just like lo han guo, these rhizoma imperatae is also a natural sweetener which help to sweeten your tea without any form of sugar.
---
Optional ingredients
It is called the best homemade herbal tea because you can add some extra flavors to it using your favorite ingredients and still keep the original taste of the tea.
Dried longan: I love these longans; they bring the extra kick to my tea, and I also like chewing something while enjoying my tea.
Mint leaves: their freshness and smell are unique and can wake you up immediately.
Fresh berries: we must admit that every drink tastes and looks better with berries.
Rock sugar: if you have to use sugar, you should stick with rock sugar as it won't over-sweeten your tea.
And let's not forget about ice if you want that extra breeze kick during a hot summer day.
---
Did you make this recipe? If so please leave a rating and let me know how it went in the comment section. Also, don't forget to tag me #cookmorphosis @cookmorphosis on social media.
BEST Homemade Herbal Tea (Nước Sâm)
The tea (Nuoc Sam) is made of Western and Eastern herbal ingredients. It is naturally sweetened, caffeine-free refreshing, and wonderful iced tea for summer.
Ingredients
4

qt

cold water

1

bulb

artichoke

quartered

7

pandan leaves

cut into 3-inch pieces

2

dried

lo han guo

cut in half

¼

c

Rhizoma Imperatae

8

oz

sugar cane

cut into small pieces

1

handful

corn silk

from 2-3 corns

1

handful

cilantro stems

1

c

chrysanthemum

dried
Garnishes
dried longan

mint leaves

fresh berries
Instructions
In a medium pot, bring four qt of water to boil. Put artichoke, pandan leaves, lo han guo, rhizoma emperatate, sugar cane, corn silk, and cilantro in a pot and simmer for 20 minutes.

Bloom dried chrysanthemum in 2 cups hot water and set aside for later use.

After 20 minutes, add chrysanthemum and simmer for another 15 minutes, then turn off the heat.

Let the mixture steep for 15 minutes. Then carefully strain the tea through a big fine sieve, and discard all the ingredients.

Serve this herbal tea with ice. Add dried longan, mint leaves, and berries as garnish if desired. Enjoy!
Notes
Suggestions
Chrysanthemum: Remember to squeeze as much water out of the chrysanthemum before adding them to the cooking pot.
Rock sugar: Taste the tea; if you desire more sweetness, you can add rock sugars to the already-strained tea. Make sure the tea is still hot/warm at this point so that rock sugars can dissolve completely.
Dried logan: S

oak dried longan in cool water for a few minutes to soften them before using.
Storage
The tea can be kept in the fridge for up to 1 week OR consumed within one day if left at room temperature.
Disclaimer: This recipe was originally published in 2015