This
Gluten Free Chicken Wings

recipe is one of the BEST chicken wings I've ever had. And of course these are perfect for those who don't want to consume gluten on a daily basis. Not to mention it's super fast to make and you only need

3 ingredients

to accomplish this recipe.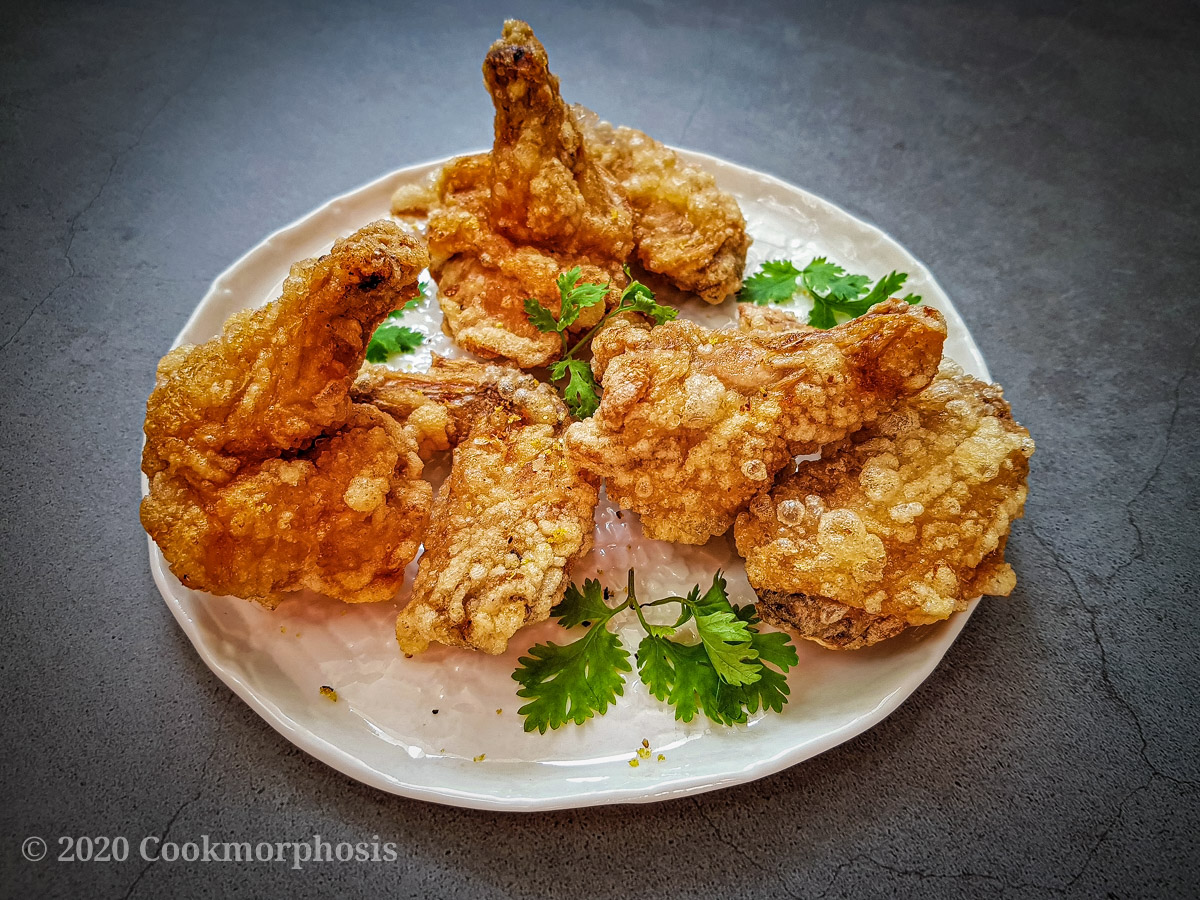 How to make these fried chicken wings perfectly?
There are couple of important things you need to pay attention to in order to achieve this gluten free chicken wings recipe to the fullest:
Oil temperature: Make sure the oil is at least 350F before proceed any further. You can throw into the oil a dash of flour to check if it is ready. If the flour is sizzling and disappeared real quick, it means the oil is perfect. OR equip yourself with a one size fit all thermometer. I've had this killer Kizen thermometer for years and it helps me a lot. From check oil temperature to turkey done-ness, it is the best.
Marinating time: As I mentioned earlier, this recipe is fast to make in terms of prep and frying. However, all good food need time to soak up the almighty seasoning, don't they? So please let your chicken wings marinated for at least 30 minutes or up to 4 hours. I had mine stayed for only 35 minutes to be exact, and they were delicious. That's all you need: 30 minutes to marinade, don't skip this part regardless of what's coming on your way.
Explore
What exactly is gluten free?
There were times when I constantly questioning: what is gluten free? As a chef, I need to take my customers' diet seriously, and believe me, every time when there was a request to make a gluten free food, I am panic. It is not because I don't know what it is. It is because our kitchen was not designed to cook gluten free food from the start; and I know how serious one can become ill if not eating properly.
It means we had to immediately clean an area of our kitchen to designate it for the order; and made the requested food on the fly without any mistake. Why so? Because we can't have crossed ingredients while making gluten free food. If any of a gluten ingredient accidentally came across even only the cooking surface, then the food is not qualified to call gluten free.
So again, what is gluten free?
Gluten is a protein found in some grains including wheat, barley, rye, spelt, and kamut and in extracts of these grains including some malt and yeast

Insider
If you're having celiac disease or adapting a gluten-free diet, you need to know clearly what you should and should not eat. Trust me, not all restaurants are fond of and acquainted with gluten free food request. So sometimes you need to explain to them what you can't really have besides the term "gluten free". HERE is the list of food that included gluten that I found really useful for both restaurant and customer's references.
Ingredients to make this Gluten free chicken wings
There are only 3 basic ingredients in this gluten free recipe, and even better no fancy batter need to whip up. That means there will be no mess and you don't need to face the idea of batter running out in the middle of cooking process.
The 3 ingredients are:
Egg
Salt: as you may know (or not if you're a new reader), I adore Kosher salt and use it in every single recipe. I think you should do so to, Kosher salt is the best and easy to control the saltiness of a product.
Potato starch: surprisingly, potato is a gluten free ingredient and so is potato starch. I use the one from Bob's red mill. I love Bob's red mill product and I would love to buy every single product they carry. If you're a gluten free lover, you definitely need to have this wonderful potato starch on hand. It is your life savior.
What to do with left-over?
Well, the good news is you can definitely freeze any left-over chicken wings for next meal as long as you don't fry them. Just marinate a big patch of this wonderful gluten free chicken wings, pop them into one of these amazing freezer bags, and freeze them. They should be good for the next 2 weeks. Don't forget to label them with these restaurant qualified blue label masking tape.
Potato starch substitution
If you don't have potato starch in your pantry, you can opt out for corn starch. According to Bob's red mill instruction: 4 teaspoons of potato starch equal 1 tablespoon of corn starch. And another good news is corn starch, just like potato starch, is also a gluten free ingredient.
Related Recipes
If you like this easy, fast chicken wings recipe, try these other delicious wings recipes (though not gluten free):
Gluten Free Chicken Wings
This Gluten Free Chicken Wings recipe is the best recipe you've ever had. It's super fast to make and only needs 3 ingredients to accomplish.
Ingredients
7

medium size chicken wings

cut in half by the joint

1

egg

½

tsp

salt

5

tbsp

potato starch

or 3 tbsp + 2 tsp corn starch

vegetable oil

to fry, as needed
Instructions
In a mixing bowl, combine chicken, salt, potato starch, egg, mix well. Let chicken wings marinate for at least 30 minutes or up to 4 hours.

In a shallow pan, fill half way with vegetable oil. Bring the temperature of oil to 350F - 375F. Prepare a cooking pan lined with oil absorbed paper.

Work in small batch. Add marinated chicken wings into the oil and deep fry for 10-15 minutes. Most likely you won't exceed 15 minutes of cooking. Check for doneness by cut into a biggest part of the wings to see if there is blood coming out or not.

Serve chicken wings immediately with your favorite dipping sauce.