This Chinese egg noodle soup recipe is packed with many sophisticated flavors that will amaze your palate with just a small soup spoon.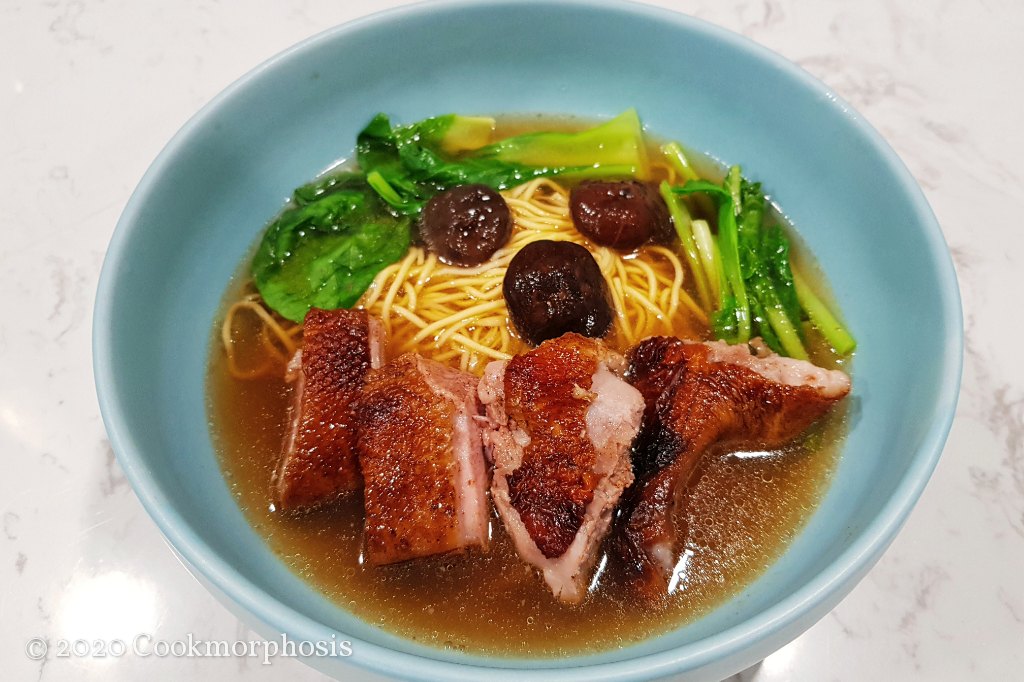 This Chinese egg noodle soup with roasted duck is easier to make than you think. Also it makes a great crowd satisfying food thus it can feed as many people as you want. Looking for food that tastes like a million dollar and yet so easy and use everyday, affordable ingredients to make? Well, this duck noodle soup is totally what you're looking for.
2020 - A year of madness
I've been cooking a lot at home for the past two months. The number of times I've cooked since March in my apartment's kitchen would exceed the total numbers for the last 4 years combined.
Crazy, isn't it? The ironic is I have a full time cooking job, so technically I cook everyday but not at home.
Trust me, if your job is spending more than half a day in a commercial kitchen and cooking your way around thousands of tickets, chances are you no longer want to do anything in your home kitchen any more.
Well, look on the bright side, I have more time to make this Chinese egg noodle soup (duck noodle soup) and to document its recipe to share with the world.
Essential ingredients in this Chinese egg noodle soup recipe
Noodle soup ingredients
Chicken bones - or chicken wings, as you can see in my soup pot. The main ingredient that helps to make the soup taste amazing. Don't use store bought chicken stocks/broths, they all taste too commercially with added additive. It's best to cook with chicken bones to get as much flavor as you could from them.
Shitake mushroom stems - these are where you get the flavor and the unique fragrance for this one of a king noodle soup. Without shitake mushroom, you can't get the fragrance that every duck noodle soup supposed to have. Wonder what fragrance I'm talking about? Well, just try to smell shitake, then you'll understand what I meant.
Shitake mushroom caps - we don't waste any part of these amazing shitake. Save the caps for duck noodle soup garnishes because they are delicious and tasty.
Spices - star anise, cinnamon stick, black peppercorn and coriander seeds are what create such sophisticated flavor I was bragging about this noodle soup from the beginning.
Vegetables - carrots and cilantro help to make the soup broth stay on the fresh side rather than the 'too-much-spice' side. In other words, they help to balance the flavor of the soup.
Soup seasoning ingredients
Oyster sauce - the oyster sauce not only helps to season the soup broth but also to bring out the traditional color of this duck noodle soup.
Soy sauce - together with oyster sauce and other spices, soy sauce brings out both the color and the taste to the table.
Bouillon seasoning powder - when it comes to Chinese food, the appearance of chicken powder bouillon is a must.
Recommendations for this Chinese egg noodle soup
Just like Pho noodle soup, in order to achieve this duck noodle soup's flavor profile to the fullest, you should start making the soup broth 1 day ahead of the serving day.
For the roasted duck comes with this soup, you can find the recipe here.
Don't want to eat duck and rather to opt in for crispy, crackling pork belly instead? You're in luck. This 100%-successful crispy pork belly recipe is what you need. As a tradition, you can also serve this egg noodle soup with roasted pork belly so shouldn't you worry about this substitution.
Chinese Style Five Spice Duck Noodle Soup
Please make this soup 24 hours ahead of your serving day. Also, check the above link for the roasted duck recipe.
Equipment
Stockpot

Roasting pan

Cooking twine or bamboo skewers

Sachet or coffee filter
Ingredients
Soup Broth
9

qt

water

6

ea

shallot

peeled

2

bulb

garlic

peeled

2

lb

chicken bones

8

oz

fresh shitake, use stems to cook soup

save shitake's caps for later

1

oz

cilantro stems

5

ea

star anise

2

ea

cinnamon sticks

2

medium

carrot

peeled, cut in half

1

tbsp

coriander seed

1

tbsp

black peppercorn
Seasoning for Broth
½

c

oyster sauce

¼

c

soy sauce

3

tbsp

sugar

3

tbsp

seasoning powder

or bouillon cubes

1

tbsp

salt
Others
1

ea

roasted duck

check recipe link above

egg noodle

as needed

bok choy

as needed

choy sum

as needed

shitake's caps
Instructions
In a stockpot, bring water to boil, then add chicken bones. Simmer the liquid, do not hard boil, and skim any excess if any.

Use a sachet or coffee filters to combine cilantro stems & shitake stems; black peppercorn & coriander seed; star anise & cinnamon sticks. By doing this, you'll save a lot of time to take them out when the broth is done cooking.

Once the liquid is simmer with the chicken bones inside, add the rest of ingredients (including the ones in sachets). Bring to soft boil and let it simmer for 1.5 hours. By this point, the fragrance from soup stock has released and you can smell them through the entire house.

After 1.5 hours, take out the bones and all the infused ingredients out. If you don't put small ingredients in sachets, you must strain the broth in order to have a clear consistency.

In a small mixing bowl, combine all seasoning ingredients. Put about 2 cup of the hot soup broth into the bowl, stir well to dissolve all the seasoning. Then pour it in the soup pot. Please handle it carefully to avoid getting burn.

Taste the broth and adjust it according to your own taste. If you want more saltiness, add soy sauce first then followed by seasoning powder. If you want less salty, add sugar and a little bit of oyster sauce.

In a cooking pan, cook shitake caps by soft boiling them or searing on very low heat with no oil. For the egg noodle, choy sum and bok choy, you can fast boil them right before serving.

Assemble: In a big bowl, put in a desired amount of egg noodle, then come roasted duck, shitake, bok choy or choy sum. Ladle soup broth cover the entire noodle bowl. Enjoy!